JVC KD-R891BT Car Stereo Radio Bluetooth CD USB AUX In MP3 iPhone Android Player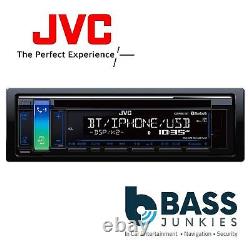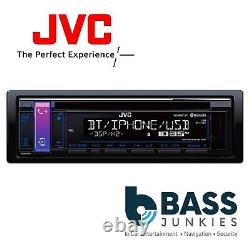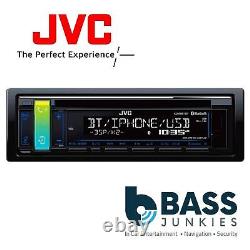 Boxing Day Sale Now On. Car Stereo & Facia Bundles. Custom Fit Car Specific Boxes. See all items in the store. Biggest reseller of in car technology.
Over 10,000 Quality Products. JVC KD-R891BT Car Stereo Single Din USB AUX In MP3 iPod iPhone Bluetooth Android/iPhone CD Player (Multi Colour illumination). The JVC KD-R891BT features dual (front & rear) mounted USB ports that will take direct inputs from iPod or iPhone providing two-way control and will even playback audio from external apps. The JVC KD-R891BT also includes enhanced Android Smartphone capability. By connecting the JVC car audio receiver via USB to an Android smartphone via a free JVC app, it allows you to list and search all of the songs stored inside the smartphone from the receiver by artist name or by album name. You can also command basic stereo controls such as pause, skip or repeat simply by finger gesture operations on the screen of the smartphone. The Bluetooth capability of the KD-R891BT allows you to enjoy the safety and convenience of hands-free calling and music streaming. Music streaming lets you play the music from any Bluetooth audio device through the stereo. Superb sound from all sources, this powerful performer features a 4 X 50 Watt MOS-FET amplifier and wide choice of upgrade options for those who wish to build an external amp powered system.
Controllable fully variable colour illumination ensures a match to the brightness of the rest of your dashboard, particularly useful at night. Maximum Power Output 50W x 4 / 50W x 2 +Subwoofer (4 ohms) 50W x 1.
Bluetooth Automatic Pairing for iPhone & Android. Bluetooth AVRCP1.5 for Versatile Song Selection. Bluetooth Hands-Free Profile 1.6. Android Music Playback (AUDIO MODE and AUTO MODE). High Current 1.5A Charging. 24bit FLAC Compatible with Tag. Sub woofer Direct Connection (Mono Lch).
Valiable Color Accent Key(Dual LED). Line Output Terminals (Pair) 2 Pairs (Front + Rear/Subwoofer Selectable). Subwoofer Output with Level/Frequency Control (Level -50 - +10). Subwoofer Output Level 4.0V. The picture(s) in this listing are for illustration purposes only.
The product design / style can vary due to alterations by suppliers during production. The Bass Junkies Car Audio team has been proudly serving car audio products since 1995. We are one of the biggest Internet resellers of brand named in car technology products to date. We have a large state of the art showroom based in the. And is the place to be for all your IN CAR gadgets.
Due to the pandemic we are offering a collect in person service For you to use this servcie you would have to do the following. We will reply with a time and day which will be a weekday between 12pm and 4pm. Due to COVID restrictions we will not be able to allow collections that have not received from us an approved appointment.
The above measures have put in place to ensure our customers and staff safety we hope you understand and respect these measures. We make every effort to ensure that our site has up-to-date information about product availability. If you wish to cancel the order you may do so. To be provided by the cardholder. Bass Junkies cannot be held responsible for any consequential losses, costs or damages involved with shortages and damages to items however, Bass Junkies shall endeavour to resolve any problem with expediency.
Due to the UK coming out of the European union there may be extra charges to import items out of the UK and in to Europe. Bass Junkies is committed to providing our customers with the highest quality products.
Damage caused by failure to follow instructions contained within the product packaging is also not covered. We will keep you notified of any delays. If following the testing process the product is found to be in good working order without defect we will return the product to you, the carriage cost of this return will be at your cost again.
If the product has been deemed faulty we will replace and send a new replacement at no extra cost to you. The following may be helpful to speed up the process.
Please ensure you have properly filled out all sections on the faulty goods return form. Please ensure the equipment is adequately packed and protected to prevent damage in transit.
Please supply contact telephone number and return address. In the event that Bass Junkies, at its discretion, may agree to accept the goods back the following conditions will apply. The goods have not been installed or used in any way. Prices & Errors and Omissions Goods and services, together with vat, are invoiced at the price prevailing at time of order. Bass Junkies reserves the right to modify the prices from time to time.
Bass Junkies makes every effort to ensure that all prices and descriptions quoted are correct and accurate at the time. Collection and Disclosure of Personal Information It is our aim to respect your privacy at all times. As a result, we will not disclose any personal information to any third party company except where necessary. Cases where doing so becomes a necessity include. Recording and processing of orders and payments.
General All the images on the website are for illustrative purpose only. These terms and conditions do not affect your statutory rights. Welcome to Bassjunkies -UK's No. 1 trusted online reseller for Car Audio, Car Security and Car Accessories. The name says it all.
It's your one stop shop for all things In-Car. Established since 1995, we have been proudly providing car audio equipment online worldwide. For car audio enthusiasts, Bass Junkies is the place to be for your car audio needs from amplifiers, subwoofers, speakers, stereos and many more. Get the latest offers directly to your inbox!