JVC KD-DB912BT DAB+ Radio & Aerial Bluetooth CD MP3 USB AUX IN Car Stereo Player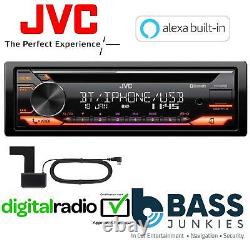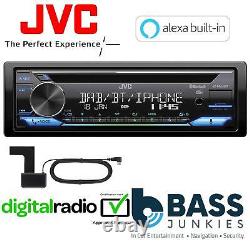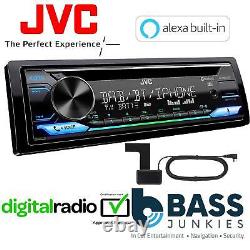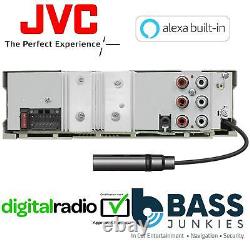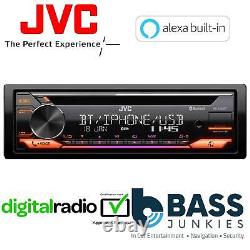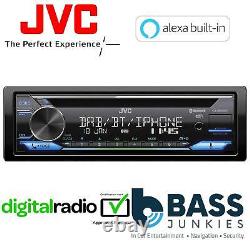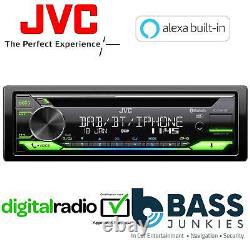 Boxing Day Sale Now On. Car Stereo & Facia Bundles. Custom Fit Car Specific Boxes. See all items in the store. Biggest reseller of in car technology.
Over 10,000 Quality Products. JVC KD-DB912BT - Bluetooth DAB+ Radio CD MP3 USB AUX Car Stereo Player & Aerial. To receive DAB broadcasts you will require a DAB antenna which is included in the price. Built-in DAB tuner lets you enjoy digital radio broadcast from DAB+ and DMB audio stations. And in an area where DAB signals are weak, the DAB Tuner equipped in the receiver can seamlessly switch between DAB+ and FM without an audible interruption.
You can connect two phones full time via Bluetooth, with secure and simple pairing. Just connect your iPhone device via USB and the automatic Bluetooth pairing function will work.
No complicated manual procedure to worry about. When the battery of the connected Bluetooth device runs low, a beep sound is heard and "LOW BATTERY" appears on the receiver. Equipped with VA (Vertical Alignment) LCD panels that offer a broader angle of view and better visibility. The 2-line display provides more information with animation effects.
You can mix the front panel illumination, separated into 2 zones. 50 preset patterns (49 colors + 1 user color preset) are available for easy customization. In addition, manual setting is possible to set each RGB color by 32 steps, providing a total of 32,768 different colors for each zone, 1 and 2, to match your preferences. You can even enjoy moving illumination, selectable from 10 color animation patters. Connect up to 5 Bluetooth devices simultaneously, so you and your friends can take turns streaming music like a DJ.
Move to the groove and get the party pumping to the max. Using Spotify Control Audio (1 DIN).
Listen to Spotify from your smartphone with smooth control on the headunit via USB or Bluetooth connection for iPhone, and via Bluetooth for Android devices. Control the receiver's source directly from the smartphone using simple finger gestures with "JVC Remote" app now available for both iOS and Android. You can even customize your audio setting, and see detailed source information such as song title, artist name and album art etc. CD MP3 USB Bluetooth Car Stereo.
5 BT-Audio Connection (JVC Streaming DJ). Bluetooth Hands Free Call (HFP). Bluetooth Audio Streaming & Control (A2DP, AVRCP). Android Music Playback (AOA 2.0).
Spotify Control (Android via Bluetooth, iPhone via USB or Bluetooth). The picture(s) in this listing are for illustration purposes only. The product design / style can vary due to alterations by suppliers during production. This product has been developed through carefully documented data and research from our suppliers.
We cannot be held responsible for discrepancies/inconsistencies that may occur due to vehicle manufacturing changes or options, or damage that may occur in the vehicle during the installation of components. All application data is subject to change.
The Bass Junkies Car Audio team has been proudly serving car audio products since 1995. We are one of the biggest Internet resellers of brand named in car technology products to date. We have a large state of the art showroom based in the. And is the place to be for all your IN CAR gadgets. Due to the pandemic we are offering a collect in person service For you to use this servcie you would have to do the following.
We will reply with a time and day which will be a weekday between 12pm and 4pm. Due to COVID restrictions we will not be able to allow collections that have not received from us an approved appointment.
The above measures have put in place to ensure our customers and staff safety we hope you understand and respect these measures. We make every effort to ensure that our site has up-to-date information about product availability. If you wish to cancel the order you may do so. To be provided by the cardholder. Bass Junkies cannot be held responsible for any consequential losses, costs or damages involved with shortages and damages to items however, Bass Junkies shall endeavour to resolve any problem with expediency.
Due to the UK coming out of the European union there may be extra charges to import items out of the UK and in to Europe. Bass Junkies is committed to providing our customers with the highest quality products.
Damage caused by failure to follow instructions contained within the product packaging is also not covered. We will keep you notified of any delays. If following the testing process the product is found to be in good working order without defect we will return the product to you, the carriage cost of this return will be at your cost again. If the product has been deemed faulty we will replace and send a new replacement at no extra cost to you.
The following may be helpful to speed up the process. Please ensure you have properly filled out all sections on the faulty goods return form. Please ensure the equipment is adequately packed and protected to prevent damage in transit. Please supply contact telephone number and return address.
In the event that Bass Junkies, at its discretion, may agree to accept the goods back the following conditions will apply. The goods have not been installed or used in any way.
Prices & Errors and Omissions Goods and services, together with vat, are invoiced at the price prevailing at time of order. Bass Junkies reserves the right to modify the prices from time to time. Bass Junkies makes every effort to ensure that all prices and descriptions quoted are correct and accurate at the time. Collection and Disclosure of Personal Information It is our aim to respect your privacy at all times.
As a result, we will not disclose any personal information to any third party company except where necessary. Cases where doing so becomes a necessity include. Recording and processing of orders and payments.
General All the images on the website are for illustrative purpose only. These terms and conditions do not affect your statutory rights.
Welcome to Bassjunkies -UK's No. 1 trusted online reseller for Car Audio, Car Security and Car Accessories. The name says it all. It's your one stop shop for all things In-Car. Established since 1995, we have been proudly providing car audio equipment online worldwide.
For car audio enthusiasts, Bass Junkies is the place to be for your car audio needs from amplifiers, subwoofers, speakers, stereos and many more. Get the latest offers directly to your inbox!