ATOTO S8 Standard 2 DIN 7 Android Car Radio Stereo GPS SAT NAV FM Player 3+32GB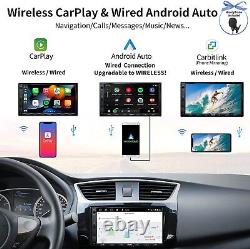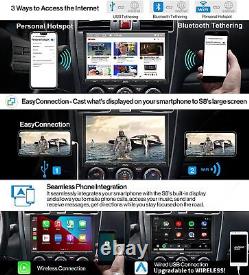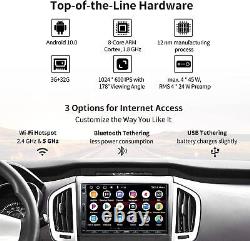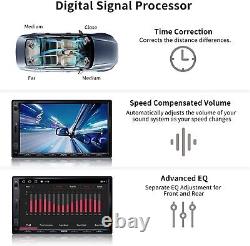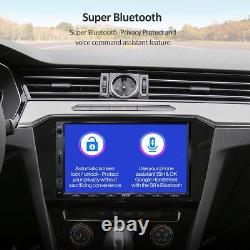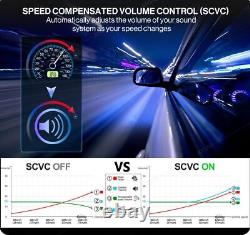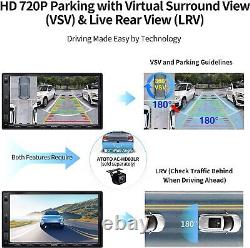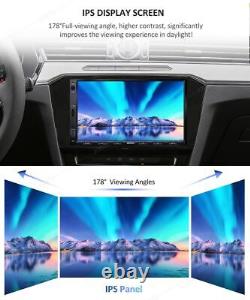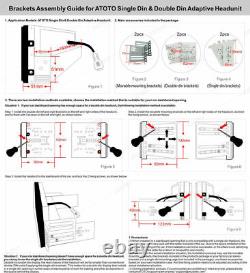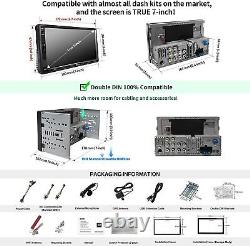 ATOTO S8 Standard 7 inch Double-DIN Car Stereo Android in-Dash Navigation, Wireless CarPlay & Android Auto. Product Version: S8 Standard (Gen2); Model No: S8EBG2A74SD(3GB/32GB); Mounting style: UDH07D. Double-DIN Adaptive Head-unit of 7-inch Display; This model adopts the panel with physical keys on it. SoC Chip: UNISOC 7862 ARM Cortex Octa-Core (up to 1.8GHz) CPU with ARM Mali-G52 MP2 GPU, advanced 12nm manufacturing process. ATOTO AICE UI 11.0. Which is developed & customized based on Android Q(10.0); System Language: English, German, French, Italian, Spanish, Portuguese, Japanese, Russian, Arabic, Polish, Korean, Dutch, Thai, Turkish, Ukrainian, Hebrew, Greek, Hungarian, Indonesian, Vietnamese and Chinese. DSP / Pre-Amplifier: Built-in Digital Signal Processor allows you to set precise equalization, signal delay, bass boost, bass filter.
Preset 9 EQ Modes, and 32 adjustable frequency bands (16 bands for front and 16 for rear). Built-in Max 445W BTL Amplifier with RMS 424W (Vcc=14.4v, THD=10%).
Bluetooth & Radio Tuner: Dual Bluetooth (BT1 5.0 & BT2 4.1). Display: Full HD 7inch 1024600 5-Touch Capacitive Touchscreen with 600cd/m2 IPS screen.
GPS/Navigation: Built-in GPS Receiver module with an external GPS antenna and Google Maps app is installed as the default GPS map. Users may need to download offline map data for a specific area for offline navigation if preferred. Other maps/navigation apps (Waze, Tomtom, HereWeGo) from Google Play Store can also be installed. EasyConnect app pre-installed, and it supports working with the latest iOS & Android devices (system firmware update may be required). Two options (USB /WiFi) are all available for connecting to Android smartphone and iPhone.
Wired / wireless CarPlay;wired Android Auto, contact ATOTO to upgrade to WIRELESS Android Auto! Start the car & access system within 2 seconds. Run a navigation map and another app (such as Youtube) on the same screen simultaneously. Users can put memorable photos in the specified Gallery Folder and let them autoplay on S8's HD big screen with only a tap (or a hand gesture). (SCVC)- When you increased in speed the headunit volume increased a certain percentage and when you slowed down, the volume dropped. This is to compensate for road noise.
Now you can access rearview even if your vehicle in moving ahead. This could remove obstructions of passengers, headrests and the vehicle's roof and rear pillars, increasing field of view and allowing the driver an unimpeded view of the lanes behind and traditional blind-spots.
AUX Audio(L/R) /Video input; FCAM front cam video input; Rearview cam input S8 can process 720P HD video signal. So you can connect a specific HD rearview cam to S8 for 720P video display; 4-CH RCA Audio Out (2v) for connecting to factory/aftermarket amplifier; Separate Sub-woof Out (0.8v); For S8 Standard, there is no Optical SPDIF Out, or Quick Charge interface; To connect to a headrest monitor, you need to get an extra ATOTO USB-to-HDMI or USB-to-RCA video output adaptor(not included). One Micro SD slot - to store media files, and can read up to 512GB storage card. Most dashboard mounting frame suppliers may provide a double din mounting frame with 172mm97mm opening (Metra dash kit, PAC dash kit, etc). ATOTO is the first one to bring an Android 7in car stereo with a minimum 172mm97mm front panel dimension.
An extra frame adapter is also included in the package to extend its size to 178mm101.5mm. ATOTO ACEB44P2 1080P DVR Cam. ATOTO ACEB44F5 Steering wheel IR Remote. ATOTO ACEB4450 Bluetooth OBD II scanner /Code Reader.
ATOTO ACEBHD02LR HD Rear-view Cam. ATOTO ACEBUTP1 USB TPMS (Tire Pressure Monitoring Sensor). ATOTO Video Output Adaptor (AC-AHV68: USB to HDMI adaptor; AC-AHV48: USB To RCA adaptor).
Some of them must be connected before installation. More than a car stereo - Install Android Apps, play music online, run online map & get real-time traffic, connect various external devices.
Access to the internet and install Android apps from Google Play Store. Compared with S8 Gen1(manufactured before Jan 2021).
S8 Gen2 can provide up to 4 options for internet access. Built-in 4G Cellular Modem allows users to insert a SIM card with a data plan for internet access, and this option is only available on selected S8 models. Running online maps or streaming music online on Android car stereo do not need high bandwidth(less than200kb/s), Bluetooth tethering connection is capable of dealing with such demand. More than 1000 apps from Google Play Store have been tested installable on ATOTO S8 Series, especially media/entertainment apps and navigation apps in the category of "Auto & Vehicles".
Very few app developers may specify devices/system environments that are allowed to install or run their apps, which results in the inability to install or run on an Android car stereo. Netflix is the case, but a specific version of Netflix is pre-installed so that you can still use it on S8. Android Car Stereo is not the equivalent of putting an Android tablet in the vehicle.
ATOTO S8 has lots of inputs and outputs customized for it to work better in vehicle. Connect to a specific ATOTO USB 1080P DVR cam for recorded video files preview & playback. Connect to a specific ATOTO USB TPMS tire pressure monitor system. When one or more tires are under-inflated, it will pop up a prompt warning on the S8 screen, and even emit a prompt tone as a reminder. Connect to a rearview cam with CVBS & HD video signal out for safe parking. Connect to an OBD II Diagnostic Scanner /Engine Code Reader via Bluetooth; Compared with single Bluetooth, dual Bluetooth makes communication tasks between multiple Bluetooth connections more balanced and stable.
Dual Bluetooth chips inside, connectable to more Bluetooth-based devices, customized Bluetooth and voice assistant interface. The Bluetooth 1 works as Bluetooth hands-free (call/answer) with A2DP streaming audio feature.
Contacts/recent records will be synchronized once the smartphone is connected. Supports "Quick Search" and "Add to Favorites" for quick dialing! Built-in Noise Cancellation Technology helps suppress background noise and echo feedback in a hands-free call. You don't have to yell at the car stereo to talk with the other one. The Bluetooth 2 not only works as Bluetooth tethering internet but also allows to connect to Bluetooth gamepad(for kids in rear seats), Bluetooth OBD2, Bluetooth TPMS, etc.
Because of dual Bluetooth inside, the system allows users to connect up to 3 devices simultaneously(one for audio, two for data communication). So users can use a specific button on the screen, steering wheel, or ATOTO AC-44F5 wireless remote to send messages, make calls, and control music with your voice. 178° full-viewing angle IPS display screen, the better viewing experience. ATOTO S8 Standard applies 178° full-viewing angle IPS display screen, which helps improve viewing experience in strong daylight, and important app tips such as navigation prompts could be viewed brighter than traditional display screen.
In addition, IPS display technology has outstanding color rendition, as well as retaining displaying naturalness. More options to operate & control the S8 - Easy Operation to Ensure Safe Driving. Operating a car stereo while driving can be quite dangerous. ATOTO S8 provides up to 24 frequently-used functions for matching with the steering wheel audio key. ATOTO S8 enables six touch gestures that support two-finger / three-finger tap on screen to enter multi-task menu quickly, switch between preset 9 EQ modes, adjust the screen brightness, etc. Which improve operation safety during driving. S8 supports split screen display, so that users can run navigation maps and another app (such as Youtube) on the same screen.
Automatically adjusts your sound system's volume as your speed changes, to adjust for road and wind noise applicable in 50mph or up. Software algorithms based on GPS positioning. DSP with Time Correction & Ultra Powerful Preamp.
Built-in Digital Signal Processor for tailored audio output. A DSP uses a microcontroller that is designed specifically to manipulate audio signals in the digital domain. It allows you to set precise equalization, signal delay (aka Time Correction or Time Alignment), bass boost, and bass filter (LFP). Ultra-powerful Toshiba Pre-amplifier IC, Outstanding Listening Experience.
The S8 Standard applies a powerful Toshiba preset amplifier, which comes with 4x45 Watts BTL Max output & 4x24w RMS output. With the conditions of non-distorted audio amplifying & delivering requirements, the RMS 24w power output lets user experience powerful & natural music/audio; It can drive 4?
Highest Compatibility For Vehicle Fit/Installation. Currently, the front panel of a 7inch aftermarket car stereo has various sizes (178mmx100mm, 178mmx102mm, 180mmx102). However, most mounting dash frame adapter suppliers Metra, Scosche, PAC, etc. Mainly provides 174mmx98mm dash opening, lots of users encountered issues /hassles during installation. ATOTO S8 universal double din models use size 192mmx97mm, and can fit them perfectly, no trimming/cutting job needed! The accessories that may be involved include (but are not limited to) dash frame kit, wiring harness, radio antenna adapter, data interface, etc. HD 720P Rearview Video Display with Live Rear-View (LRV) Feature.
Traditional car stereos can only take and display 400-600 lines CVBS rearview video signal. Live RearView (LRV) Feature - Access Rearview even if vehicle in moving ahead. This could remove obstructions of passengers, headrests and the vehicle's roof and rear pillars, increasing field of view (the lanes behind and traditional blind-spots). Personal Privacy Protection without sacrificing convenience. In order to protect Google /Facebook & other SNS accounts from being accessed, S8 has a screen lock option for users to lock the screen when the car (car stereo) is not in their control (Valet Parking, or vehicle taken by others).
You do not have to input the password manually to unlock the screen. Now, all you need to lock or unlock your S8 is just walk out of its Bluetooth range. Online Product Protetion Registration & Continuous System Software Update.
Registering products could help users to achieve support easily with top priority (since we can access the initial order details & product SN code). ATOTO will continuously improve S8's system firmware every a few months once necessary. Get continued firmware update when available to ensure few bugs and new features are added. Users can find the availability of firmware update notification by logging into AOCSS.
Most orders are dispatched within. We are unable to change/alter the address inputted during its transit. However, you may choose to return the product once you have received it.
We want you to be. We will reach you at the soonest. This item is in the category "Vehicle Parts & Accessories\In-Car Technology, GPS & Security\In-Car Entertainment\Car Stereos & Head Units". The seller is "utowincarav" and is located in this country: GB. This item can be shipped to United Kingdom.
Model: S8EBG2A74SD
Operating System: Android
Unit Size: 2 DIN
Features: Mirrorlink/AutoLink, USB Tethering, HD Rearview with LRV, SCVC, Bluetooth, DAB+, Remote Controls, Touchscreen, Wireless Carplay, Android Auto, Octa-Core CPU, Dual Bluetooth, Wireless & Wired CarPlay, Wired Android Auto, Wireless Android Auto(contact ATOTO support to upgrade)
Manufacturer Part Number: S8EBG2A74SD
Brand: ATOTO
Screen Size: 7 in
Compatible Vehicle Model: 1.1 Universal
Compatible Vehicle Make: Universal
Compatible Format: MP3, MP4, MP5
Port: AUX, Memory Card, USB
Colour: Black
Channels: 4 Channel
Country/Region of Manufacture: China
Custom Bundle: No